Desktop
&
Mobile












Area46.com SERVICES
... since 1994
Good web sites improve productivity & increase sales
WRITING & PUBLISHING
Expressing yourself clearly and concisely is an art.


Contract us in a FULL Service capacity or as an addition to your in-house team.

We also provide EDITING Services, and Ghost Write for BLOGS & Twitter ... if outright ghostwriting isn't appropriate or ethical for your situation you can contract us to simply help you find your voice.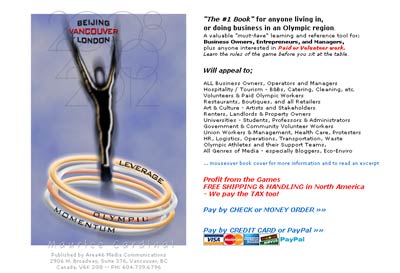 • Websites
• Sales Sheets
• Brochures
• Newsletters
• White Papers
• Annual Reports
• Speeches
• Scripts
• Books

• • Ghost Writing / Heavy Editing
• • Special Projects (Investigative)
• • Social Media


The image at left is a book project we researched, wrote, and published to help companies leverage Olympic momentum.


Sales ¤ Branding ¤ PR Promotion ¤ Business Communication & Consulting
Websites ¤ Social Media ¤ Writing ¤ Multimedia



CLIENTS & TESTIMONIALS :: Email Us :: 604.560.4419