Desktop
&
Mobile












SERVICES
WEB SITE
DESIGN, PRODUCTION, UPDATING MAINTENANCE
I'm Maurice Cardinal, and no, that's not me below, but it might be you . . .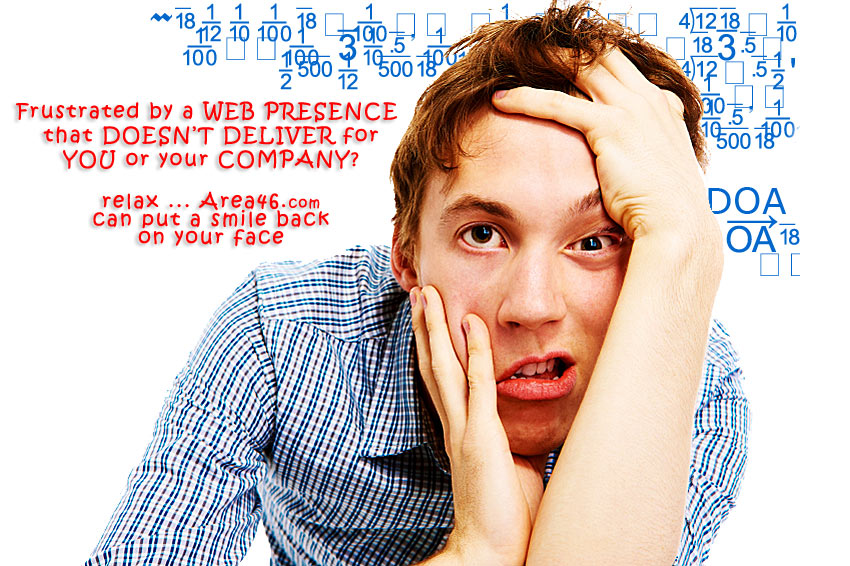 I recognized in the early 90's that the internet had great potential to become a powerful communications tool. Over the last two decades, using North American distributed teams, I grew Area46.com into a highly specialized marketing and promotions firm, developing social media sites, blogs, video, interactivity strategies, Twitter, written content, and more.

I personally handle all design aspects, plus, we research and register domain names, manage web hosting, write copy, shoot and edit photography and video, research our clients' industries and their competitors, and upload and thoroughly test our designs.



After we put your new web presence online - I won't leave you high and dry.
I stay close by and help you capitalize and grow your website to maximum potential.

We can also keep your site updated, or teach you how to manage it yourself in-house.

Plus, we'll let you know when major changes occur in the web industry and also advise when you should consider making code modification so your site continues to operate properly and smoothly.

Don't hesitate to contact me with your questions about Social Media, Blogs, Newsletters, Facebook, Landing Pages, Search Engine Optimization (SEO), Writing, Twitter, Mobile, WiFi, Video, Audio Podcasts, Public Relations & Promotion, plus a wide range of other old and new web strategies.


I launched Area46.con in 1994 . . . and some of my clients are still with me!